FAQs
You've Got Questions, We've Got Answers
OUR MENU
Is your menu fully vegan?
Yes, we are a 100% plant-based restaurant! Everything from our house-made cheese to handcrafted ice creams are fully vegan.
Do you have gluten-free options?
We absolutely do! Any menu items that can be made gluten-free are identified on the menu with: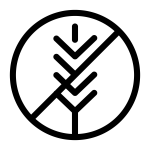 I have a severe allergy – can you accommodate it?
We do have allergen symbols on all our menus to identify dishes that can be made nut- or gluten-free, however, please always alert our staff to any allergy you may have. Please note, while we have strict processes around preparing food when notified of an allergy, our ingredients are prepared in a facility that also processes gluten & nuts.
We have extensive allergen guides to crosscheck any allergen including gluten, peanuts, almonds, walnuts, pine nuts, sesame, soy, garlic, sulphites, cilantro, onion, celery + mustard on site.
WHAT INGREDIENTS DO YOU USE IN YOUR regular CRUST?
High Gluten Flour, Water, Salt, Olive Oil, Cane Sugar, and Yeast.
WHAT INGREDIENTS DO YOU USE IN YOUR GLUTEN FREE CRUST?
We use Schär Flour, Water, Sugar, Fresh Yeast and Olive Oil for our gluten-free pizza crusts.
Do you have any paleo friendly options?
As both our gluten free and regular crusts contain legumes/grains, pizzas are not an option for anyone following a strict paleo diet. Please speak with a staff member during your visit to see if we can help accommodate your dietary restrictions!
DO YOU HAVE NUTRITIONAL INFORMATION?
We do not currently have our nutritional information available, but it is on our radar!
WHAT DO YOU USE FOR YOUR "HOT HONEY"?
Unfiltered Apple Juice, Chamomile Tea, Brown Rice Syrup, Calabrian Chilis with Oil.
Do you have SOY FREE OPTIONS?
We do! Currently, our Margherita and Superfunghi pizzas are both naturally soy free, but our staff members are happy to recommend modifications to make other menu items soy free as well.
Can I buy your cheese?
Not yet, maybe in the future!
OUR SPACE
Do you take reservations?
You can make a reservation online here or give us a call at 0221 29299999.
Is it possible to rent out your space for an event?
Yes! Our Cologne location is perfect for hosting larger group events. Please send us an email or fill out our contact form with all of the details (number of people, date, time, special requests) and we'll be in touch!
Do you offer catering services?
While we don't have formal catering services currently in place, we are able to accommodate large pick-up orders with at least 1 week notice. For large pick-up orders, please fill out our contact form and we'll be in touch!
I'd like to open a franchise location!
Thanks for your interest! We'd like to hear more about you and why you'd like to open your own Virtuous Pie – please fill out our franchise inquiry form.
OUR COMMUNITY
Can I buy A GIFT CARD?
Yes! Gift Cards are available for purchase online or in-store, in any amount you would like.
I'd like to work at Virtuous Pie!
Fantastic! You can check out all our current openings over here.
Where are you opening next?
We'll be sure to announce our new openings and locations on our social media, so make sure you're following us!