FAQs
You have questions, we have answers
OUR MENU
IS YOUR MENU COMPLETELY VEGAN?
Yes, we are a 100% plant-based restaurant! Everything from our homemade cheeses to our handmade ice cream is 100% vegan.
DO YOU HAVE GLUTEN-FREE OPTIONS?
Absolutely! All menu items that can be prepared gluten-free are marked with on the menu: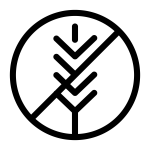 I HAVE A SEVERE ALLERGY – CAN YOU ACCOMMODATE THAT?
We have allergen icons on all of our menus to indicate dishes that are naturally nut-free or can be prepared gluten-free, but please always inform our staff of your allergy. Please note that while we have strict procedures for preparing food when an allergy is reported to us, our ingredients are prepared in a facility that also processes gluten and nuts.
We have extensive allergen guides to check for all allergens such as gluten, peanuts, tree nuts, sesame, soy, nightshade, garlic, cilantro and mustard on site.
WHAT INGREDIENTS DO YOU USE FOR YOUR REGULAR PIZZA DOUGH?
High gluten flour, water, salt, olive oil, cane sugar and yeast.
WHAT INGREDIENTS DO YOU USE FOR YOUR GLUTEN FREE PIZZA DOUGH?
The gluten-free pizza dough is made in a local gluten-free bakery with Shär Universal flour, water, sugar, yeast and olive oil.
WHAT DO YOU USE FOR YOUR "HOT HONEY"?
Unfiltered apple juice, chamomile tea, brown rice syrup, Calabrian chilies with oil.
DO YOU ALSO HAVE SOY-FREE VARIANTS?
Yes, we do! Currently, our Margherita and Superfunghi pizzas are naturally soy-free, but our staff is happy to recommend changes to make other menu items soy-free as well.
OUR RESTAURANT
DO YOU TAKE RESERVATIONS?
Yes! You can made a reservation online or call us at the restaurant during opening hours (0221 29299999).
IS IT POSSIBLE TO RENT YOUR RESTAURANT FOR AN EVENT?
Not yet in Cologne, but maybe in the future!
DO YOU OFFER CATERING SERVICES?
Currently we do not offer formal catering service, but we are able to take large pick-up orders with at least 3 days notice. For large pick-up orders, please contact us by email at info@vpgermany.com to place your order.
OUR COMMUNITY
CAN I BUY A GIFT CARD?
Yes! Gift cards are available at all of our locations, in any amount you desire.
I would like to work at virtuous pie!
Great! You can view all of our current job openings here.